Job-Training 'Tantra-Energy Masseur' (certified) - Level I
Touch and Massage - make more of them!
If it has always been your inner conviction that a successful masseur has not only massage sequences at his disposal, but also an intuitive understanding of the energy dynamics of his client, then this training could be something for you.
Topic of the Job-Training 'Tantra-Energy Masseur'
Massage partners and guests with completely different sexual backgrounds, experiences and stages of development come to a meeting. The great art of massage is to pick up the recipient where he is at the moment and, if necessary, to accompany him into further developments.
The sexual energy massages taught in this Training were developed in the homosexual world of the early 1990s. They were at the time a response to the great fear of HIV infection and aids, a way of experiencing sexual ecstasy that was completely safe.
Already in 1991 Armin Heining came in contact with these massages after he had completed the mixed-gender SkyDancing-Tantra year long training (Margot Anand). On his way to become a certified Tantra teacher, he became a bridge regarding the developments of the homosexual and heterosexual world and he integrated the sexual-energetic massages into his GAY-TANTRA programs. In this training as a Tantra-Energy Masseur, Armin Heining provides his extensive knowledge and experience, which he is constantly developing.
Participants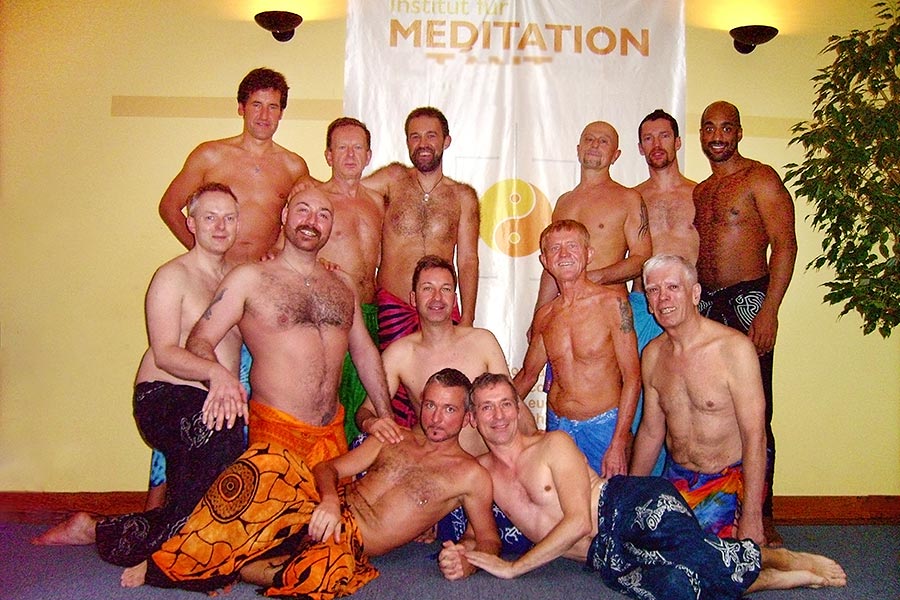 Both professional (Tantra) masseurs and interested laymen can profit to a high degree from this Training. They can consolidate their knowledge of tantric breathing and energy work and let the many energy experiences arising be a source of inspiration.
The Training can be attended for professional further development or out of private interest. In combination with a paramedical basic training (e.g. hydrotherapist, masseur, naturopath, doctor) or a registered business (e.g. wellness provider, sex worker), the Tantra Energy Masseur is entitled to offer his services for a fee.
Training Objective
After completion of this Training the participants are able to independently carry out a multiple orgasmic genital stimulation, a multiple orgasmic anal and prostate stimulation, as well as a combination of the two.
They have mastered various ways of communicating with the recipient of the massage with regard to orgasmic experiences and can give directions how to proceed further. They know how to deal with the most varied manifestations of sexual energy and can channel them towards a holistic experience.
Training Qualification
The 'Tantra-Energy Masseur' certificate of GAY-TANTRA with Armin Heining is awarded after a successfully conducted oral and practical examination. This certificate, with which the holder can actively advertise his enhanced qualifications on his website, the social media and other profiles, attests the quality of his Tantra Energy Massages and distinguishes him from the mass of (Tantra) masseurs.
---
Course and Contents
The multiple orgasmic stimulations are an excellent support for awakening sexual potential and integrating it with the whole personality in its most varied aspects.
Part 1: Introduction and preparation
Theory:
Massage versus stimulation?
Energy and ecstasy – what are they?
How does arousal come about?
Psychological processes and stages on the path to ecstasy
Practice:
Part 2: Own experience of the multiple orgasmic stimulations
Theory and Practice:
Emotional and physical preparation
Heart breathing
The Big Draw
Multiple orgasmic genital stimulation
Anus breathing
Multiple orgasmic anal and prostate stimulation
Part 3: Supervision
Theory:
What leads to orgasm or non-orgasm?
Conversation before and after the experience
The course of three multiple orgasmic stimulations
Documentation of the session
Practice:
Carrying out the two multiple orgasmic stimulations
Part 4: Own independent practice of the multiple orgasmic stimulations (until 30.06.2024)
Ten documented multiple orgasmic stimulations conducted on acquaintances, friends or guests
Part 5: Tantra-Energy Masseur – Certification
Theory:
Oral examination via Skype (thirty minutes by prior appointment)
Practice:
Discussion of the practice documentation (thirty minutes by prior appointment)

Dates: 08.02.2024 - 16.02.2024 in Berlin | Level I
Pre-Experiences: Not required!
---
Preparatory and Accompanying Media: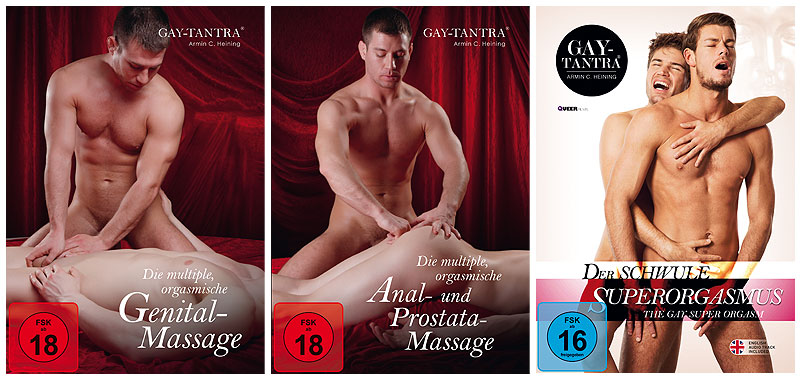 Participants will receive these three GAY-TANTRA Ecstasy Films and various other study and information films (value about EUR 45) after complete registration as download for free.
The 'GAY-TANTRA Training for Tantra-Energy Masseur (certified) Program Study Guide', a comprehensive manual that immerses you in the unique GAY-TANTRA energy stimulations and other important related topics, allows you to get the most out of your GAY-TANTRA training! The Study Guide will introduce you to and keep you on your path to immersion in the GAY-TANTRA multiple, orgasmic massages - during and following the training. The 'GAY-TANTRA Training for Tantra-Energy Masseur (certified) Program Study Guide' (value about EUR 45) is available exclusively to training participants and is not available elsewhere!
Additionally books and DVDs can be bought during the training at the spot.
---
Organizational Details
Description:
The Tantra-Energy Masseur training (Part 1 to 3) takes place at care & share, Welserstr. 5-7, 10777 Berlin. The bright and friendly rooms are located in a central and quiet area in Berlin-Schöneberg, not far from the Viktoria-Luise-Platz (U4).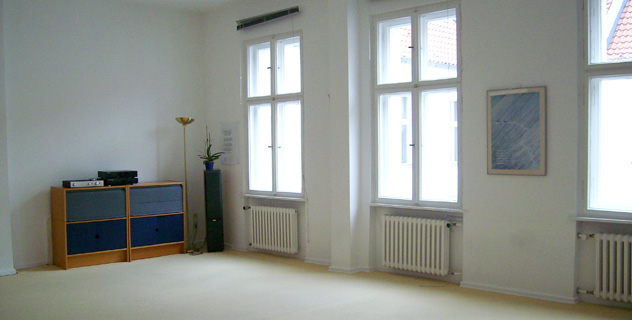 Schedule:
The beginning of the training is on 08.02.2024 at 19:00 h with a meditation to arrive. The individual training days usually start at 07.30 h with a meditation in the morning and ends - with several longer and shorter breaks during the day - usually about 20.00 h. The end of the practical training is on 16.02.2024 about 20:00 h.
Seminar languages:
German and English
Accommodation/Meals:
To increase the depth of the workshop experience, the group spirit and the cohesion, we spend the night in our own sleeping bag for EUR 25 per night in the spacious rooms of the venue (with mattresses, shower and toilet). Your sleeping place is pre-reserved for you.
Breakfast we will buy, prepare and have together at our venue. Lunch and dinner you can eat something small in our place, or we can also go out and have some food in restaurants close by.
If you do not want to take part in the group accommodation, please contact us.
Important notices:
This training is no substitution for psychotherapy, self-experience, personality training, or sexual or spiritual development! It is assumed that the participants possess a certain mental and physical durability, and are open sexually and spiritually (natural mindset towards nudity, touch, also deep sexual touch, openness towards active and quiet meditation). If necessary, talk about your participation with the educator prior to registration!
Fee of participation:
EUR 1.850, payable in one amount or - on request - in two instalments (50 per cent on the date of the written enrolment; 50 per cent one month prior to the beginning). Please contact us via E-Mail!
This fee covers all costs for seminar hours and materials.

First-time Participants will receive three GAY-TANTRA Ecstasy Films and various other study and information films (value about EUR 45) after complete registration as download for free.

The following discounts are possible:
(-10%) First-Minute Discount: for registrations until 60 days prior the beginning.

and additionally under one of the following conditions:
(-15%) Social rebate: Students/Unemployed Persons [with ID]
Further Notices:
Your investment can pay off quickly by offering your acquired skills for a fee. The training prepares you for this!
With a little courage and self-confidence, you can start offering massages already in March/April 2024 immediately after the end of the training.
The registered association GAY-TANTRA e.V. (11.02.2020, District Court of Charlottenburg) can offer you additionally a safe roof to pursue tantra massages professionally, beyond any prostitution requirements. If needed talk with Armin.
---
See here: Conditions of participation / cancellation.
---
Further developments


Job-Training Tantra Masseur


Job-Training Tantra-Ecstasy Masseur